We could feel our bodies relax as we stepped under the canopy of the ancient forest, weaving our way past green ferns and carpets of moss. It was day 1 of a 2-day get away seeking the solitude of the mountains. I knew we had to hurry. Or did we? Hmm. Discipline or Rest – which is best?
A couple of trail runners hurried passed as they trained for an adventure race. Part of me wondered if we should 'pick up the pace' – after all, we only had 2 days.
My wife sensed my inner struggle; "relax, we're on vacation, take a rest". She was right. As I vowed to 'relax', I worried whether we'd be too late to get a good campsite.
In a life full of commitments, deadlines, and a discipline of 'more is better', it can be challenging to give ourselves permission to take a rest.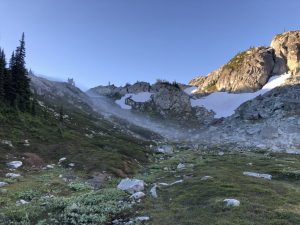 High alpine mountain pass with a soft bank of fog rolling in early morning
Matt MacEachern – early morning alpine mist – BC wilderness
Early the next morning as we prepped for our hike, there was a part of me thinking, 'we've got to get going if we're going to summit'. Then I thought: 'dude, relax, take a rest.'
This mental struggle continued – should I be disciplined, move fast, do what needs to be done, or chill out, take some photos, relax.